Building knowledge and capacity for sustainable green space
Water planning, water sources and sustainablity, efficient irrigation, building capacity, technical advice.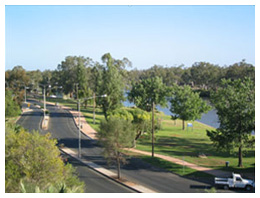 The development and maintenance of sustainable green space requires an understanding of the water cycle, the site, water technology and management practices appropriate to achieve the desired outcomes and solutions.
G & M Connellan Consultants assists organisations and individuals in achieving sustainable horticultural facilities and green space.

Green space includes turf, commercial landscapes, sports grounds, golf courses, race tracks, parklands, streetscapes, urban trees, cemeteries, public gardens and residential gardens. Horticultural facilities include tree and row crop production, vineyards, plant nurseries and greenhouse production.
Solutions to achieving your water management goals may involve:
Development of design concepts for sustainable solutions
Identification of organisation's mission, goals and water objectives
Strategies to achieve sustainable water use
Planning and design for water use efficiency
Evaluation of water sources including rainwater, stormwater, recycled water and groundwater
Efficient irrigation
Auditing of irrigation systems
Assessment of water and irrigation technologies
Capacity building to deliver efficiencies
Managing implementation of solutions
Better Water Management Solutions